Keep up to date on our latest beers and events.
355ml glass, prices exclude tax.
(P) = Available in Packaged
(F) = Available for Growler Fills
MAKE IT A FLIGHT! // $2.50 PER TASTER GLASS
Royal City Ale (5%) // $4.95
Lightly dry-hopped, this American Blonde Ale is bright and refreshing with a gentle finish. (P,F)
RED PILSNER (5%) // $5.25
This full-bodied Pilsner has a floral aroma accented with notes of lavender and honey. (P,F)
Bread crust, chocolate, nuts and toffee emanate from this Munich Dunkel. (P,F)
SIMPLE THINGS (5%) // $5.50
Crisp, clean, with notes of honey, graham cracker, biscuit, and a refreshing and lengthy bitterness. (P,F)
Shiny Things (6%) // $5.75
Pineapple and resinous evergreen notes, Shiny Things IPA is crisp, juicy, with a gentle bitterness. (P,F)
Vibrant Things (4.6%) // $5.50
Green mango and citrus take the lead in this light, refreshing ale that finishes with a gentle tartness. (P,F)
Radiant Things (4.6%) // $5.50
Hibiscus-Grapefruit Pale Ale
This beer has the subtle bitterness of grapefruit and brightness of hibiscus as balancing poles. (P)
First Press (5.6%) // $6.00
Demonstrating a smooth, satisfying mouthfeel, First Press is complex and flavourful from first sip to last. (P)
Flavours of caramel, baked apple and roasted almonds are prominent from the thoughtfully sourced, locally roasted coffee.
Some info from Kevin @ Ghost Roasters:
Ghost Roaster Coffee is a tiny roasting operation in New Westminster BC. An enthusiastic side project to bring thoughtfully sourced small batch roasted coffee to folks in the lower mainland and beyond from Kevin McConnell. Follow along and get your own ghost @ghostroasted on Instagram and Twitter. Kevin is stoked to be able to team up with the brewery he calls home on Firstpress!
This is an Organic Certified coffee that was cultivated in the municipality of San Cristobal, located in the Chiapas region of Mexico.
San  Cristóbal  de  las  Casas  is  a  Pueblo  Mágico  in  Chiapas.  "Pueblo  Mágico"  (Magic  Town)  is  a  designation  created  by  the  Mexican  government  to  recognize  sites  full  of  symbology,  legend,  transcendent history, and that highlight the best of the country's national identity.
Phonograph (7.1%) // $6.25
Something new and dark to wet your whistle, this one with double maple additions. (P)
The brew team wanted to create something dark and seasonal with a twist. A maple twist!
With two Maple variations, wood and syrup, Phonograph provides highs and lows on the front and the back of the palate. A subtle hint of maple, rich dark chocolate and velvet smoke stack up to create a luxurious, balanced porter that satisfies from roasty start to lingering, long finish.
This is a wonderful mix of fruit and malt and a great example of the types of beers our brew team excel at. (P, F)
Always beer-forward, always balanced and approachable.
With zingy cranberry and round orange flavors, Nightcap is firmly supported by the warming spice characteristics of Belgian yeast to provide a complex, satisfying brew to keep out the cold.
The Commute (4.9%) // $6.00
When our friends at Studio Brewing decided to open their doors, we started the countdown to our first collab with our new neighbors. (F)
What better way to celebrate the short commute between us than with a home and away collaboration brew?
We brewed The Commute with Heidelberg Pilsner malt for a crisp, clean taste. We added German nobel hops (Perle, Spalter Select and Hersbrucker) to bring a floral, herbal and pleasingly spicy aroma to the table. Fermented cold with a traditional Kölsch yeast, subtle fruity esters linger on the finish before disappearing before the next sip.
Welcome to the neighborhood, Studio! I'm sure we'll be making The Commute many times over. 
Lager Conditioned on Albariño grapes
We took our lager recipe and fermented it on the pomace (grape skins) of some freshly pressed Albariño grapes that Eric drove up and retrieved from Terravista Vineyards in Naramata. (P)
Eric says: "We teamed up with our friends at Terravista Vineyards to create this piquette-style beer. Albariño grapes were pressed early in the morning in Naramata then loaded up into the van to make the journey to New Westminster that very same day. There, we loaded the grapes into a tank and transferred the waiting lager on top of them. Although the grapes are pressed, the remaining juice and sugars ferment out in the beer and leave a delightful wine character. After 2 weeks conditioning on the grapes, we transferred off and lagered the beer for an additional 4 weeks. This beer is worth the effort."
Lots going on! Here's some information to digest:
Albariño : A unique varietal grown primarily in Spain and Portugal(Alvarinho). It can be reasonably compared to Riesling, Viognier, Gewürztraminer and Petit Menseng.
Terravista Vineyards: A producer of small-lot, specialty white wine in the Okanagan. They are one of the few producers of Albariño in North America.
Piquette:  a French wine term which commonly refers to a vinous beverage produced by adding water to grape pomace. We used lager instead of water.
Pomace: The leftover grape solids after pressing for juice
With vivid minerality, residual bitterness from the grape skins and pits and a tannic finish, this beer is an interesting exercise in mixed mediums.
Our Canadian Brewing Awards winning Baltic Porter is back for another season after being in the tank for a full 8 weeks. (P)
Lager is Life.
Wait what? I thought this was a Porter?
Well, technically, Baltic Porter is fermented with a lager yeast which would make it a lager… but I mean, those are just the details. Lagering. Which, if you're curious, was an innovation of breweries in, you guessed it, Baltic nations who put their spin on an English style.
Baltic is conditioned on licorice root and has notes of dark chocolate, toffee, molasses and anise and finishes clean, like a lager. Confusing I know. It rolls in 7.6% but it does not taste that strong, so imbibe wisely!
This popular German beverage is made to order in our Tasting Room all year round. Half beer of your choice and half house lemonade..
Featuring a rotating selection of local cideries offerings. Ask one of our friendly tasting room staff what we're currently pouring!
We also have non-alcoholic choices available including Kombucha, ginger beer, and our house made lemonade!
Our Food Truck schedule is in the Highlights Section of our Instagram page!
Charcuterie Snack Box // $20
From Columbia St. Sandwich Co., this box is meant to fill up one person or to share comfortably. Contains: 3 meats, 3 cheeses, assorted crackers and nuts, grapes, pickles, olives, veggies and Red Pilsner hummus.
–
Soft Pretzel with Red Pils Mustard // $7
Sourced from Canuel Caterers, everyone's favourite soft pretzel comes with their signature S&O Red Pilsner grainy mustard dip.
–
Beef Jerky – 70g // $7
Original, Black Pepper or Teriyaki from Sidney by Island Jerky.
–
Landjaeger // $3.5
Pepperbeisser // $2.5
Tasty cured meat snacks from Arctic Meat Co. in Port Coquitlam.
Tempeh Jerky – 70g // $8
Teriyaki or Hickory Tempeh jerky from Urbani Foods in New West.
–
Picnicker Snack Stick // $3.5
Organic Vegan snack stick by Viana in Germany.
–
Hardbite Potato Chips – 150g // $5
Natural, Ketchup, Sweet Chili Ghost Pepper, Rock Salt & Vinegar, Smokin' BBQ or Jalapeno, made over the bridge in Surrey.
–
Plantain Chips – 114g // $4.5
Gluten-Free Peruvian Plantain Chips lightly spiced with chili.
–
Snack Attack Jars // $2.5
Assorted chips and pretzels… in a jar!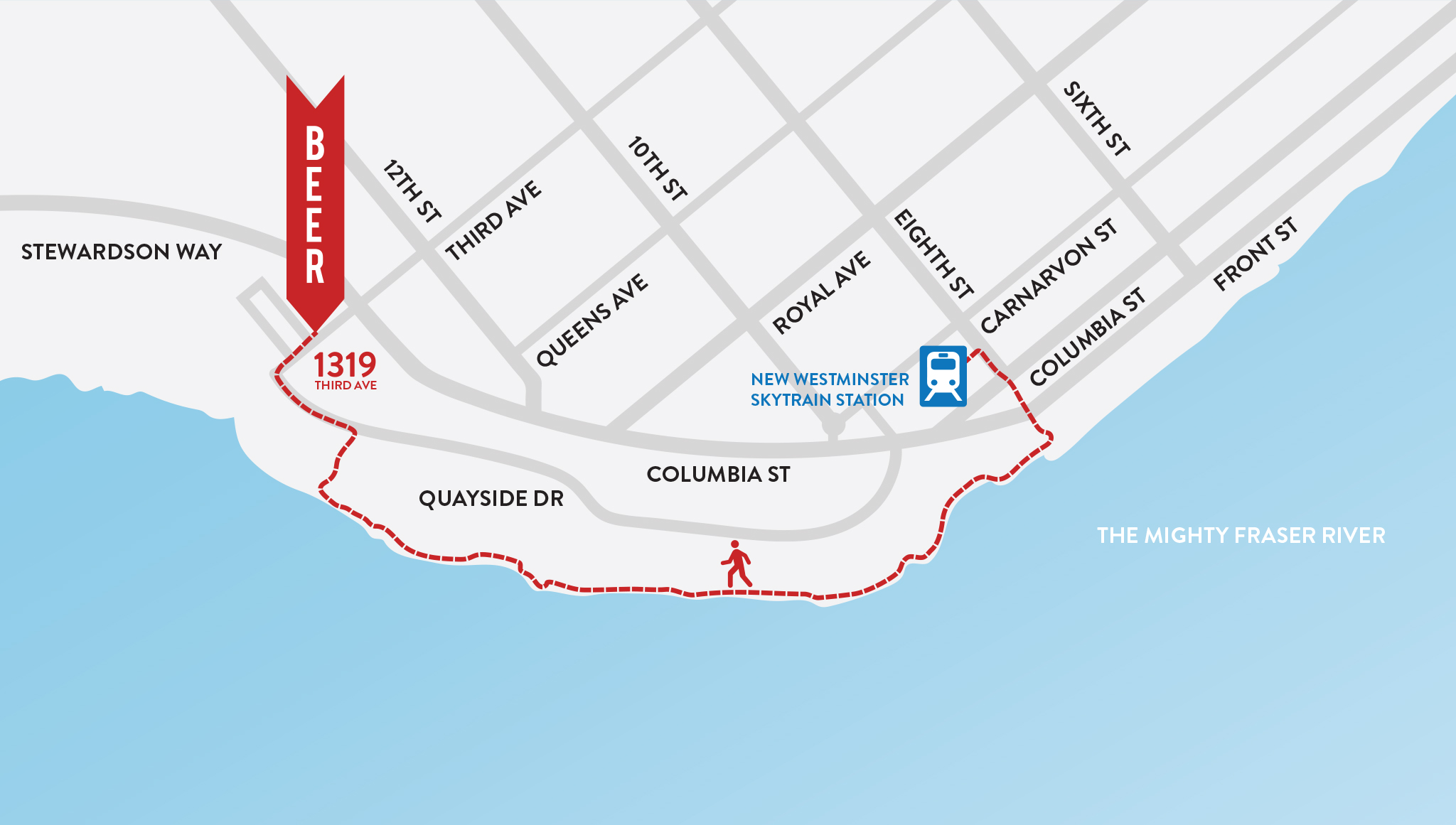 Our Hours
12 to 9pm

Today

12 to 10pm

Monday

12 to 10pm

Tuesday

12 to 10pm

Wednesday

12 to 10pm

Thursday

12 to 10pm

Friday

12 to 10pm

Saturday
Frequently Asked Questions
ARE KIDS ALLOWED IN THE TASTING ROOM?
Yep! We even have lemonade on tap for them!
WHAT ABOUT FOLKS THAT DON'T DRINK BEER?
We have you covered with a rotating cider tap and plenty of non-alcoholic beverages including Ginger Beer and Kombucha.
ARE DOGS ALLOWED IN THE TASTING ROOM?
Dogs are allowed on our patio! But they are not allowed inside the Tasting Room. This is a Fraser Health regulation and although we love dogs (we have two of our own) they have to stay outside.
Snackables are available and during the Spring/Summer we generally have a food truck on the weekend. Best way to check on Food Trucks is by following us on Instagram!
DO YOU FILL ANY GROWLER FROM ANYWHERE?
You bet, as long as it's 1L or 2L and holds beer, we'll fill it.
DO YOU SELL IN BOTTLES AND CANS OR TO LIQUOR STORES?
Yes! We will most likely be at the liquor store nearest you. If you live in BC that is.
DO YOU TAKE RESERVATIONS?
Sorry, we do not take reservations. However, people always seem to find a place to sit.
What food trucks will you have around this weekend?
The food truck schedule is not very consistent, so please visit the highlights on our Instagram page to get up to date information.
Our private keg sale options change frequently and the options below are not always available. To inquire about availability please email cheers@steelandoak.ca. Allow up to 72 hours for email response.
50L / 30L = PRICE UPON REQUEST
Steel & Oak Brewing Co. embodies the modernness of today while remaining dedicated to the craftsmanship of years long past. Materials of strength and durability, steel and oak; house, protect and nurture what we stand for most – exceptional tasting craft beer.
Using a mixture of North American and German brewing styles, techniques and ingredients, Steel & Oak explores new beer styles while constantly refining and perfecting the classics.
Always unfiltered, unpasteurized and made with the finest ingredients, Steel & Oak proudly returns the noble tradition of brewing quality beer to New Westminster.