Many of you may remember that at this time last year we did a collaboration with Freigeist Bierkultur out of Germany. The beer style was a Steinbier which translates to Stone Beer in German. The reason it's called a "Stone Beer" is that we actually heat up hot granite rocks to boil the wort. It's a very old-school way of doing things that is super dangerous and creates a lot of cool steam. So of course we wanted to do it again!
Well as luck might have it their owner and Head Brewer Sebastian Sauer was in town for the Farmhouse Fest a month and a half ago so we decided to give it another go!
So as I mentioned above the great thing about this beer is that you get to play with lots of dangerous stuff. We basically start the brew day by heating up rocks in a couple old kegs we got from our friends at Twin Sails. These rocks are heated up to just above 450° C / 850° F (we have a nifty gun that tells us this).
Once the rocks are up to temp we latch our forklift onto the kegs so that we can move them without burning ourselves.
The kegs are then lowered into a stainless steel container that we borrowed from our neighbours at Pacific Breeze Winery. Once the kegs (with the rocks inside them) are safely inside this container we start to pump the wort through the stainless steel container, over the rocks, and watch the magic happen.
The sugars in the wort caramelize because of the extreme heat of the rocks creating a huge blanket of steam and producing major caramel notes in the beer without being too sweet. The rocks also impart a hint of minerality on the finish making this Steinbier Lager full of bold flavours while still being refreshing.
Because of the intricacies of producing this beer we only made 1,700L of it. This means it'll be available in bottles at select stores and on tap in our Tasting Room but won't be available for growler fills.
You can have a look at the brew day below and further down a quick story on the new label design for this year's version.
A quick story on the label design. Last year's label ended up being a bit of disaster. We tried to get creative and do a clear see-through label that we ended up having to hand label and still got air bubbles underneath. If I hadn't pre-launched the beer I likely would have waited for some new labels before sending it out. But lesson learned.
This years label is inspired by German constructivist graphic design and was created by our incredibly talented designer Sami Christianson.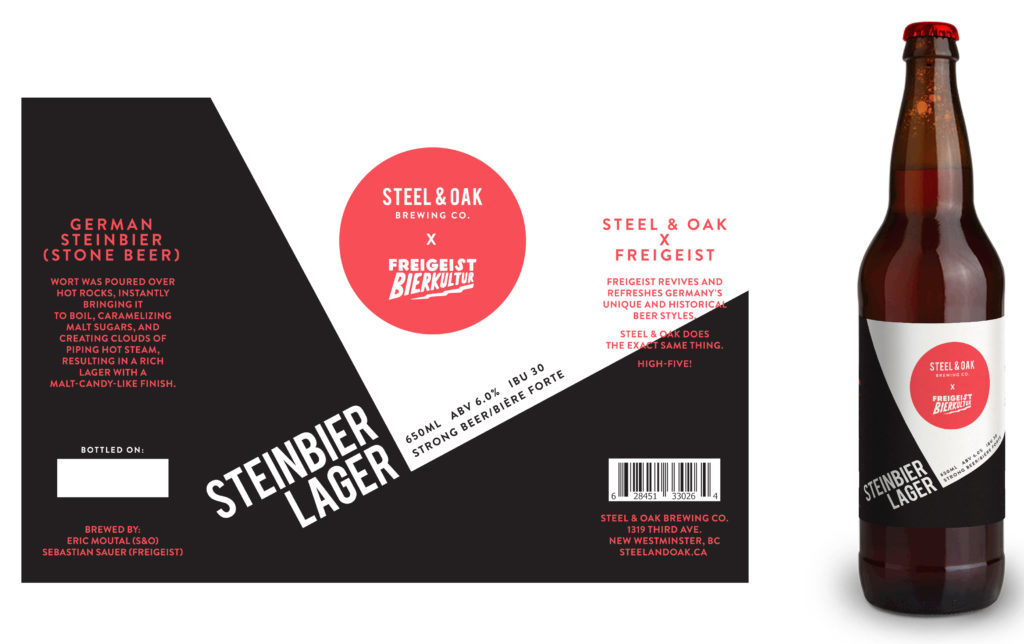 Well that's the short version of the creation of this year's collab with Freigeist. If you want to read about last years experience feel free to click here.
The Steel & Oak x Freigeist Bierkultur Steinbier will be hitting the shelves this week!
Cheers,
Jorden