Four Winds and Steel & Oak have a fairly long history together. I mean long in "Beer Years".
I first met the Mills fam at local renaissance man Chester Carey's Serious Beer class at the Pacific Culinary Institute. Funny enough in that class was also Mark Roberts who's now gone on to start up Backcountry Brewing. Needless to say, it was a good place to meet friends.
We were a brewery in planning, they were almost complete.
Four Winds had been a huge source of help to us when we were starting up as a brewery and I can honestly say that the success they have enjoyed couldn't have happened to a nicer and harder working group of guys.
Some of you longtime S&O x FW fans may remember our first collab together, Gratzer. It was our take on a historic style made with smoked malt and lactobacillus. It was a smokey sour 4% beer that we loved but was definitely a very specific flavour profile. It wasn't for everyone. So this time we brewed a people pleaser, The Fraser.
Our head brewer Eric loves going to spice shops. On one of his excursions he came across a spice called Amchoor. Amchoor is a fruity spice powder made from dry unripe green mangos, popular in Indian cuisine. It's fruity, citrusy, and tart. This spice is where The Fraser began.
After some back and forth it was decided that Four Winds would bring Sacch Trois yeast and some Cashmere fresh hops, we added Azacca, Citra and Mosaic to pack an aromatic punch of tropical fruit into this beer. The Fraser has mango and fruit notes on the palate and finishes with a tart funk from the Amchoor and Sacch Trois yeast. It's 5.2%.
Now let's talk label. Our designer Sami put together a few "river themed" ideas. These were the initial designs that turned into what you see above.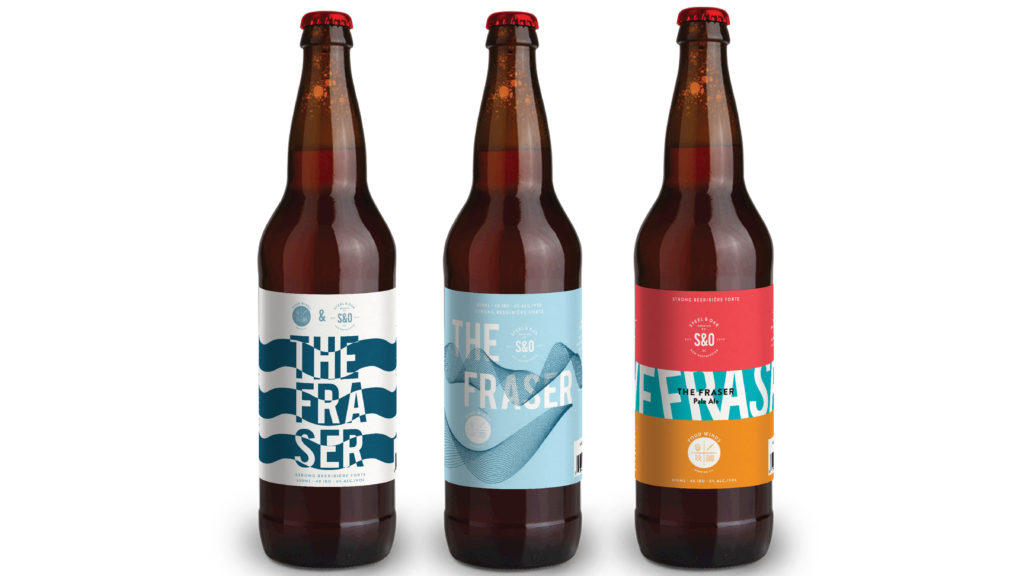 The Fraser is available at Steel & Oak and will be shipping out to local liquor stores next week! We'll also be pouring it at our booth at this weekend's BC Beer Awards if you were quick enough to get a ticket!
Cheers,
Jorden