"The voice of this Steel & Oak blog is normally mine, Jorden Foss. However, for this very special beer I've handed off blog duties to the women responsible for making this beer happen." Cheers -Jorden.
–
Chances are high, if you come into the brewery for a beer, you'll be greeted by one of the remarkable women that work here. At Steel & Oak, we pride ourselves on maintaining a welcoming, comfortable and safe environment for all and that starts with our staff. The beer industry is predominantly male, especially in the brewhouse, but we value the diverse members of our team, however they identify or whatever job they may have. Everyone is encouraged to make suggestions for new beers and get involved.
In that spirit, earlier this year, staff members Kristina and Heather brewed a small batch of beer for the Siris Cask Festival, put on by Tri Cities Cask Festivals, which celebrates the women in the craft beer industry. It was a great success! Siris was the initial inspiration for the female identified staff at the brewery to brew a beer as a collective. This exciting endeavor came to fruition in November and we spent a wonderful day together brewing "Zusammen". Zusammen is a German word meaning "together", which we found to be the perfect word to embody our intention behind this beer. Throughout the brewing process we found ourselves saying to each other, over and over, 'I'm so glad we are doing this together'.
Zusammen is a fig and cardamom stout, made with figs that we collectively crushed by hand. What better way to be hands-on in the creation of a new beer?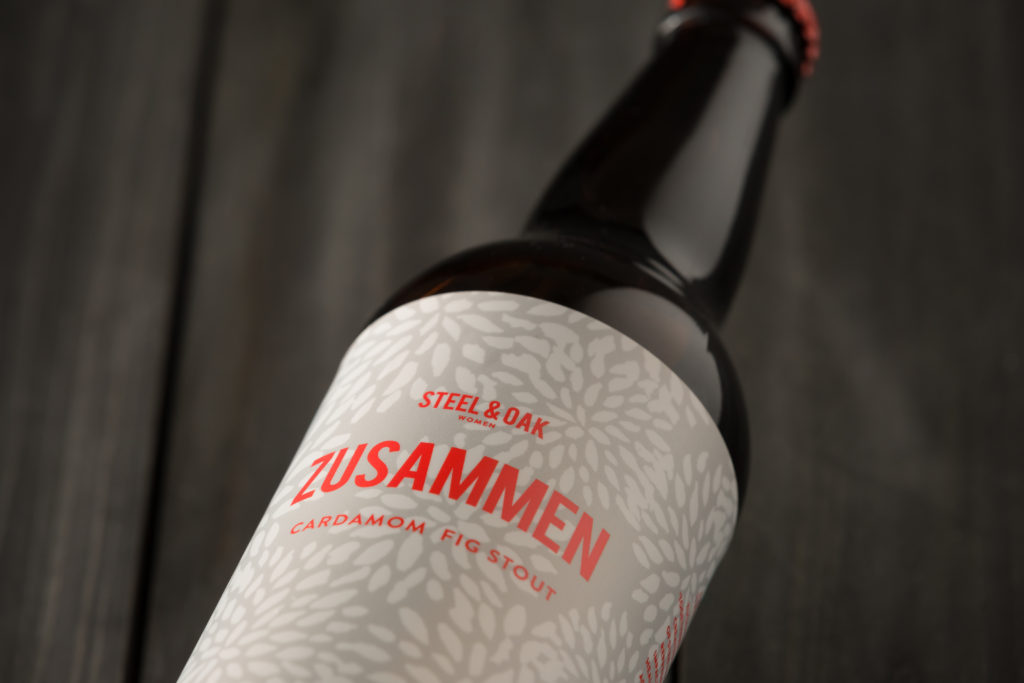 In the wake of the #metoo movement, we recognize that we all need to work harder to create safe spaces for women, femmes, trans, and non-binary folks. This needs to be done through education on how to prevent sexual harassment and assault, especially where alcohol is a factor, and that free and enthusiastic consent is mandatory. At Steel & Oak, we firmly believe that everybody should be able to enjoy a beer (or lemonade!) in peace and we are very happy to be able to provide a safe, positive place for all to come and enjoy a drink, alone or with friends, without fear or judgement. We enforce a policy of zero tolerance for harassment of any kind and we encourage others to do the same.
Partial proceeds of this beer will allow us to support the following organizations: WAVAW Rape Crisis Centre and Good Night Out Vancouver
WAVAW
In 1982, WAVAW Rape Crisis Centre formed in response to the need for sexual assault services.
WAVAW connects survivors to healing through one-to-one counselling, support groups, victim services, a 24-Hour Crisis Line, 24-Hour accompaniments to the hospital, and culturally proficient services for Indigenous survivors.
Today, WAVAW's waitlist for one-to-one counselling services is currently 18 months long. That's like calling an ambulance, and then waiting for 18 months for it to arrive. It's unacceptable, and this is why we are raising money today: we want to connect survivors to the services they need, when they need them.
WAVAW's vision is for a society where all women are free from violence.
Good Night Out
Good Night Out is an international organization dedicated to providing the nightlife industry with the capacity to respond to and prevent harassment and sexual assault within licensed venues.
Good Night Out Vancouver was founded out of an awareness of the links between alcohol consumption and sexual aggression and initiated from community concerns that staff and patrons in Vancouver's licensed venues could benefit from education around how to recognize, interrupt and prevent sexual harassment and assault on nights out.
Good Night Out uses recent research on gendered violence, bystander intervention, and anti-oppressive techniques to create a variety of original educational tools, interventions and messaging aimed at reducing gendered and homophobic harassment and violence in our city's arts, culture and entertainment scene. They work with anyone with any form of liquor license     (restaurant, primary or even a one-night event), as well as offering training to community groups and university campuses, to help ensure more Good Nights Out in our city.
The work that Good Night Out has done in Vancouver has been presented on a local and international scale, with our team being looked to as experts in the field of violence against women.  You can learn more on their Facebook at Good Night Out Vancouver.
To find more information on these organizations please go to:
http://www.goodnightoutcampaign.org
Now that you know about the organizations we will be supporting, we would like to formally invite you to our Zusammen launch party and fundraiser! On December 21, join us at The Terminal Pub. During our launch party, Terminal Pub will be donating $1.50 from each pint of Zusammen sold to the WAVAW Rape Crisis Centre. In addition, Good Night Out Vancouver will be leading a presentation about how to be an active bystander when you are out and about. All proceeds from our raffle and silent auction will be donated to WAVAW and Good Night Out Vancouver. Thank you, Terminal Pub!
We're looking forward to seeing you there!
In solidarity,
The women of Steel & Oak